CONGRATULATIONS TO MICKAYLA HEINEMANN, recipient of the 2021 Ric Nattrass Research Grant! Mickayla is currently undertaking her Honours degree at the University of Southern Queensland, and is researching how methods for surveying frog populations can be improved. She told us that "while there are many techniques that do a great job, they all have limitations, and some species are either under-reported or completely missed!"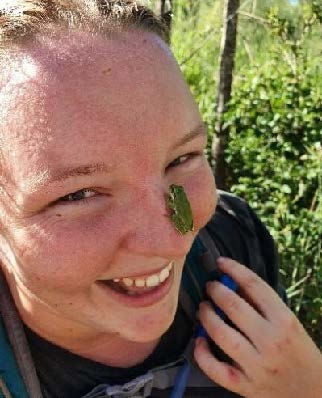 Her research asks three main questions:
• Does attracting insects using artificial light make pitfall trapping more effective?
• Is PVC or bamboo pipe better for surveying tree frog species?
• Can photographic identification be used in mark-recapture studies?
Mickayla is also using cameras around pitfall traps to record how many escape or are predated directly from them.
Mickayla's research aims to improve data collection methods to assist with the conservation of Australian native frogs. She has completed her field work surveying two sites at Spicers Hidden Vale in Grandchester, South East Queensland, and is in the process of analysing her data.
She says she is "happy to report there appears to be healthy populations of a wide diversity of native frogs in this region of Queensland." All of us at QFS are looking forward to following Mickayla's research and finding out the answers to these important research questions!