Building a frog hotel a great way to support certain species of frog (e.g. tree frogs), whose habitat is under threat due to increased urbanisation. A frog hotel won't attract frogs to your garden, but it will provide a hide out for frogs that already reside on your property. If you've had frogs popping up in inconvenient places (such as your toilet!), you might want to think about
building a frog hotel to provide an alternative space outdoors that they can utilise for shelter.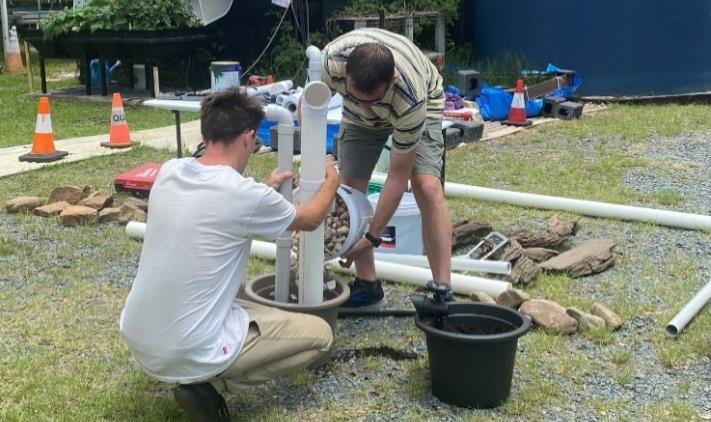 QFS President Ashley Keune (+ extra pair of hands) building an above-ground frog hotel
Above-ground frog hotel materials:
Several different lengths and diameter of PVC pipe (2–6 pipes; not too short, as the frogs like dark places for refuge)
A vessel (e.g., a medium-to-large heavy pot or bucket)
Enough gravel and/or soil to almost fill the vessel
A few plants (check out these native plant species for frog-friendly gardens)
Rain or tap water (optional, although you will need small amounts to water the plants
Step-by-step instructions:
If adding water, seal up any holes in the bottom of your pot using silicone sealant (stones or gravel will not give a water-tight seal)
Arrange the pipes vertically in the vessel
Fill the space around the pipes with the gravel/soil until the pipes are supported
Plant your plants around the pipes
Add water (if using), but do not fill above the top of the soil/gravel
Place the frog hotel in a location that is cool, dark and as moist as possible, e.g., in a shaded area or dappled light. Plants are a great addition to a frog hotel as they keep the soil healthy and provide additional habitat for the frogs. If you're going to be keeping your hotel topped up with water, make sure you choose plants that don't mind having 'wet feet'.