Tired of finding Cane Toads on your property? Then the Cane Toad Challenge might just be for you!
We have teamed up as an affiliate member with the Cane Toad Challenge, led by Prof. Rob Capon of University of Queensland, and are pleased to offer Cane Toad tadpole baits to our Members in need of some Cane Toad control!

Field studies have shown the baits are very effective in attracting Cane Toad tadpoles whilst not impacting on native frog tadpoles. Targeting the tadpoles is a far more efficient and effective means of eradicating Cane Toads on a local scale, as many thousands of tadpoles can be removed from a water body within a 24-48 hour period, as opposed to several dozen adult toads in an evening. And since female Cane Toads can produce 20,000 eggs a season, that's a lot of little toads for every adult female toad missed!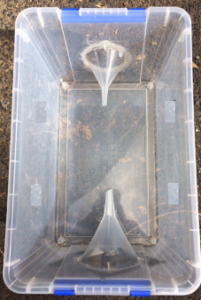 Members who requests baits will be assessed on the nature of property and/or water bodies the baited traps are proposed to be deployed. The tadpole traps are DIY and easy to find parts for assembly (refer image right). The trap is then deployed (with lid on) in the shallows of a water body and weighed down by a log/rock.
There are three documents provided to Members to guide the use of the baits. These are:
Documents requiring Members to complete can be opened in Word and the forms completed. Alternatively there is space for hand-written responses if Members choose to print then scan the form and email back once completed.

Please direct all inquiries reg. cane toad baits and related matters to Julia Squires (email: toadbaits [at] qldfrogs.asn.au )
Finally, remember to check the 'Be Toadally Sure' Campaign and brochure to brush up on identifying adult Cane Toads from native frogs at http://www.qldfrogs.asn.au/be-toadally-sure-campaign/.

We look forward to your involvement and data contribution from the outcomes of the bait deployment and what impact these have on local Cane Toad tadpole and adult populations.