Initially published 16 July 2021. Updated 10 July 2022, 15 January 2023 and 21 May 2023.
2023 Mortality Event
We are aware of some reports being received of sick and dead frogs as we are coming into the winter months.
QFS would be interested to hear from anyone that has had green treefrogs or any other native frog species turn up sick or dead in their backyard this winter.
The community is encouraged to report any sick or dead frogs via this form, so that we can assist the inter-agency group in their understanding and response planning for this event.
Your contribution is greatly appreciated! Thank you.
---
2022 frog die-off event in SEQ and south-east Australia
10 July 2022: A year on from last winter's mass frog die-off event, and we're again receiving reports of sick and dead frogs.
The results of pathological testing last year suggested that the die-off of green treefrogs and other native frog species during winter and early spring was most likely due to chytridiomycosis, a disease caused by the amphibian chytrid fungus or Bd (an exotic fungal pathogen implicated in the decline and extinction of a number of native frog species during the 1970s, 1980s and 1990s).
The large number of frog deaths attributable to this disease is likely due, in part, to cold weather in recent weeks and very wet weather preceding winter – conditions favouring the growth and reproduction of amphibian chytrid fungus.
---
Care Advice for Sick Frogs with suspected Chytrid
Following numerous reports of sick and dying green tree frogs in South East Queensland and Northern New South Wales during the winters of 2021 and 2022, we wanted to provide the following guidance for anyone that finds a sick frog around their home exhibiting the symptoms of chytridiomycosis, which include:
Lethargy;
Unusual posture or behaviour (e.g., sitting out by day);
Swollen thighs;
Reddening or ulceration of the belly and/or toes; and/or
Discolouration of the upper body surface and/or irregular sloughing.
The most effective treatment for green tree frogs exhibiting symptoms of chytridiomycosis is likely to be antifungal treatment, which can only be prescribed by a vet. If you find a sick frog around your home, we recommend that you take it to a qualified veterinarian for treatment. Vets throughout QLD have been informed of the spate of sick and dead frogs this winter and provided with suitable treatment options if this course of action is pursued.
To transport the frog to a qualified vet, place it in a container with a small amount of water. Chytridiomycosis is contagious between amphibians, so please ensure that the frog is not moved to any other locations, and practice good hygiene after handling.
---
2021 Frog Mass Mortality Event
16 July 2021: Over the last few weeks we have received a number of reports of sick and dead green treefrogs (Litoria caerulea) exhibiting symptoms of chytridiomycosis – a disease caused by the amphibian chytrid fungus (the fungal pathogen implicated in die-offs of frog species here and abroad).
QFS would be interested to hear from anyone that has had green treefrogs or any other native frog species turn up sick or dead in their backyard this winter.
---
Pathogen testing of dead frogs
As part of a coordinated response to the recent frog die-offs in south-east Australia, DES (Department of Environment and Science) had been screening sick and dead frogs from Queensland for amphibian chytrid fungus and other pathogens that might be involved in the recent spate of frog deaths.
We thank those of who who provided specimens for testing during winter/spring of 2021.
---
A healthy frog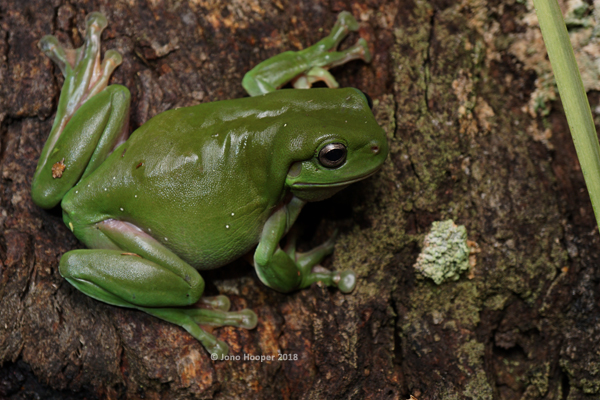 This is a healthy, adult frog. As they age they develop white spots, usually on the flanks (sides) which is a normal colour change.
Oedema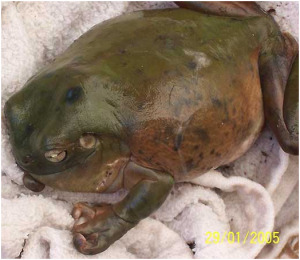 This is what a frog with oedema looks like. A bit like someone has blown it up with an air pump. Oedema can occur in the body cavities or in the subcutaneous fluids like in this frog.
This frog was still alive (just barely) when this picture was taken. It was found laying upside down on someone's lawn. Its pupils were tightly constricted – something you might see in insecticide toxicity, but there was no fitting. Cause of death remains unknown, but it did not have chytridiomycosis. On post mortem there were kidney and liver changes.
Spinal Deformity
In humans, this spinal deformity would be called kyphoscoliosis. This is a juvenile Green Treefrog, so the cause is probably developmental.
Chytridiomycosis – early stage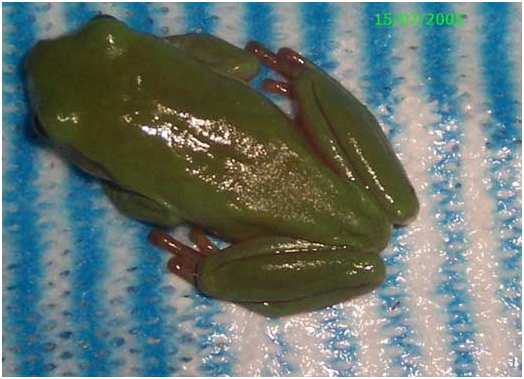 This is a juvenile Green Treefrog affected by chytridiomycosis. In this photo other, than the obvious hyperamia of the feet (and ventral surface – not seen here) the frogs appears and behaves normally.
Chytridiomycosis – a day later
A day later extreme weakness has set in and this is when you see the abducted limbs. Some frogs appear rigid in the end stages before death. You don't always see sloughing skin in chytrid-affected frogs, and you will see sloughing skin stuck on frogs affected by other diseases that are too sick to wipe it off normally. If you look closely at the frog with oedema you will see sloughed skin tags.
Discolouration
This is a Litoria caerulea with abnormal colouration. As you know, frogs colouration can vary a lot normally. in the case of green tree frogs, they will look quite dark if they have not been exposed to light – however, once exposed to indirect sunlight they will go a nice bright green quite quickly if they are healthy. When sick or hyperaemic, they will have the dark dull green look seen here on the front and back ends of this frog, and they will not recover a more normal colour as described above. This frog also DID NOT have chytridiomycsis, although it had all the signs – lethargy, hyperaemia and abducted limbs and it was found near a site where chytridiomycosis had killed frogs.
Emaciation
Body condition in frogs can be hard to assess, particularly if they can dehydrate or rehydrate quickly. Captive pet L. caruleas in the USA are often overfed and diagnosed with obesity. This little fellow is the opposite – in poor condition, he/she looks like a large head on a tiny skeletal body.
Hyperaemia
Hyperaemia refers to an increase in blood flow, in the case of frogs an increase of blood flow to the skin is seen as an increased redness as evidenced in this picture. Commonly called "redleg" it is not a sign specific to any one disease. It may mean there is a septicemia occurring or it could be a part of end stage shock. The frog in this picture is dead and in this case did have a heavy infection with chytridiomycosis.
Lumps
There are many causes for lumps on frogs – tumors of course, parasites such as tapeworm sparganosis and skeletal deformities. This case is a healing injury to the head – possibly a crush injury, this frog progressed to eventually lose its eye and develop areas of ulceration around the nostril and eye due to nerve damage.
Skeletal Deformity
Deformities in the development of the skeleton are commonly seen in frogs and may occur due to an imbalance of a number of factors. Vit D, natural light exposure, calcium: phosphorus ratios, growth hormone, melatonin and thyroid hormone. Generally they are seen as long bone curvature (seen in picture of frogs sitting on side of container), spinal abnormalities- i.e. a hunchback (there is a nice picture of this previously) and mandibular (lower jaw) abnormalities -next picture. These are captive raised L. chloris – thanks to Gerry Marentilli (ARC) for allowing me to take pictures.
Mandibular dystrophy
White Discharge
We get many people commenting on a white discharge found on a frog. This is probably the contents of the glands in their skin. They have many skin glands. Many produce lipids and others called the granular glands produce a myriad of substances that can be antibacterial, mimic neuro chemical substances or aid in the immune response. In research conducted to find out what these substances are, the frog is given a mild electric shock so that the gland substances can be harvested. Stress hormones such as adrenaline will also have the same effect. It may be that the gland secretions become obvious when they have been stimulated to release their contents. The frog in this picture died of chytridiomycosis.
Trauma/bone fracture/breakage
If you find a frog that has suffered a severe injury (i.e. deep flesh wound, bone break or fracture) you may need to made the call as to whether the animal has much chance of recovery. If you believe it does, then place the frog in a clean, moist container (not too big but with enough space for the animal) with a lid on top to reduce as much light inside as possible. Remove the lid every couple of hours or puncture small holes for fresh air to pass through. Keep the frog away from direct light and noise and do not put anything inside the container with the frog (e.g. food or shelter).
Contact your nearest wildlife vet/hospital to allow them to assess the extent of the injury. In many cases they may decide it best to euthanize the frog, however particular species have had a successful recovery by pinning broken/fractured legs. Others continue to hop after sections of their legs have been amputated! Ensure that if the animal survives recovery and is deemed able to survive in the wild, that it is released back into the same appropriate location and habitat.